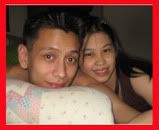 mE & tOn!o



our 3 preciouses



Anthony John II



Samuelle Alyssa



Carlos Antonio





Thursday, December 01, 2005
Friday, November 18, 2005
Tuesday, October 04, 2005
the season of break-ups... and heartaches. i've been to two weddings the past month..yupp, exchange of vows, exchange of promises of forever...but is there really such a thing as forever?
love is a very strong feeling to hold back. losing someone, with fault or without is very difficult. how i wish nobody ever has to go through such a thing, most especially the ones i love...and of course myself.

that is my greatest fear i guess...being abandoned, and being left behind. i do hope others, most especially those in that situation now, know how to handle themselves. and will learn to find the reason behind it. and despite the pain...will learn to be strong and move on...or hold on if she has to.

i wish this seasons ends soon, i really wish it's just a fad. i do hope everything falls back into place again. ei, i can understand what you are feeling and what you are going through...i'm just here, a call, an e-mail, snail mail or a text message away...

Life-changing events do not happen by accident.
They are not determined by the stars...
They are not by chance...
There is no such thing as chance.
The Lord uses every situation in life to accomplish His purposes

Sunday, October 02, 2005
Tuesday, September 27, 2005
Tuesday, September 20, 2005
VIEWS
layout by
Marianne